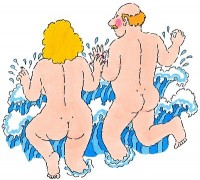 N.I.F.T.Y. INDOOR SWIM NIGHTS
Location: Templeton Pool, 700 Templeton drive, Vancouver.
Cost: Regular admission is $9. NIFTY offers half price swim rates to students and low income people. Children (18 years & younger) are admitted free when accompanied by their parents. Annual membership (by donation, $0 and up) required for all adult admissions. Please bring a quarter (refundable) or your own lock for the locker.
Following each swim night there is usually an optional get together for snacks at a local restaurant. Check with the front desk for location. All N.I.F.T.Y. swims are clothing optional.
OTHER SWIMS (please verify the details with the official event organizers):
WRECK BEACH SWIM CLUB
Location: Lord Byng Pool, 3990 W. 14th, Vancouver.
Following each swim night there is usually an optional get together for snacks at a local restaurant. Check with the front desk for location. All Wreck Beach Swim Club swims are nude only. Visit the Wreck Beach website for more details: http://www.wreckbeach.org/swim.html

SKINNYDIPPER SWIM NIGHTS
Location: Newton Wave Pool – 13730 72nd Ave, Surrey
All Skinnydipper swims are nude only. Visit the Skinnydipper Nude Recreation website for more details: http://www.skinnydipper.ca/