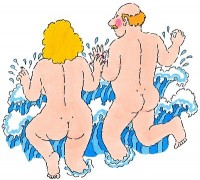 N.I.F.T.Y. INDOOR SWIM NIGHTS
Warning!
Attention!!
Sometimes our swims are cancelled or moved to a different location. Please check our 
calendar events page
to see the latest information regarding dates/times of confirmed swims.
Location: Templeton Pool, 700 Templeton drive, Vancouver.
Cost: Regular admission is $9. NIFTY offers half price swim rates to students and low income people. Children (18 years & younger) are admitted free when accompanied by their parents. Annual membership (by donation, $0 and up) required for all adult admissions. Please bring a quarter (refundable) or your own lock for the locker.
Important!
Attention Newcomers:
Your first NIFTY swim is only $1. Please click on the image below, print, photograph or save the discount coupon on your smartphone or camera and present it at the next NIFTY swim. We accept the coupons on paper, digital cameras and smartphones.