NIFTY Swim Nights
Templeton Pool
700 Templeton drive
Vancouver
NIFTY events are clothing optional, but here's a great chance to have a sauna in the traditional manner – NUDE! This is a family event and just like at Wreck Beach, normal, respectful behavior is expected at all times. So please bring your kids if you like (there's a children's pool there too). We keep it safe and accountable for everyone's safety!
Your first NIFTY swim is only $1. Please click on the image below, print, photograph or save the discount coupon on your smartphone or camera and present it at the next NIFTY swim. We accept the coupons on paper, digital cameras and smartphones.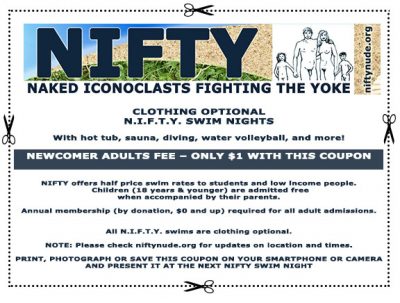 See you at the swim!