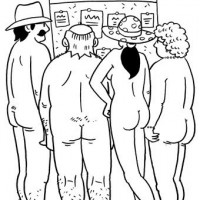 Q: What is naturism?
A: Naturism is a way of life when naked individuals or groups of people live in harmony with nature.
Q: Why would I want to be nude?
A: This is how we were born. There is nothing wrong when people dress accordingly. In cold winter we wear warm boots and a coat. For deep underwater we wear a diving suit. For space walk we use a space suit. For park, pool or beach – a pair of beach sandals and a towel is more than enough. It is natural, healthy, and feels really good!
Q: Is nudity offensive?
A: Are you offended by the look of a newborn child? Probably not. Same way we should treat people of all ages. The more purity and kindness we have, the less we will be offended by somebody's nudity.
Q: What is the difference between a nudist and a naturist?
A: No big difference. Naturists are closer to natural environment – sun, water, air, grass. A naked person playing bowling is more likely to be called a nudist. A naked person playing golf is more likely to be called a naturist. A naked person swimming in a clothing optional pool is probably both.
Q: Is nudity sexual?
A: Nudity and sexuality is not same thing. Nudity is not necessarily sexy, and sex doesn't have to be naked. Some clothed people look more sexually arousing than completely nude folks. Not everything that seems to be natural is acceptable in social naturist's environment. Sex act, masturbation, urination, defecation is not acceptable. Even an erection is not acceptable. Although men sometimes cannot control it, but they can always hide it by using a towel, turning away or going into the water. Surprisingly, most people don't feel sexy when they are at a nude beach.
Q: Aren't all naturists/nudists exhibitionists and voyeurs?
A: No. Exhibitionism and voyeurism suggest sexual excitement or arousal. Naturists enjoy being naked. Many naturists enjoy socializing with other people, clothed or naked. Naturists treat other people with respect and purity, without any sexual context. We cannot read people's minds, so we have to presume they are pure and innocent and treat them accordingly. In unlikely event if you see somebody not following the etiquette, tell them to stop or call for help.
Q: Is being nude in public illegal?
A: It depends. Most countries/municipalities regulate public nudity. In some places any public nudity is a big offense. In other jurisdictions public nudity is legal but restricted to certain areas. Check with your local laws and regulations.
Q: Are there any commonly accepted rules for the naturists environment?
A: Nothing special. The rules are same as everywhere else:
– No gawking. It's OK to look, but it is considered to be rude to stare, especially with binoculars.
– No overt sexual activity.
– Respect privacy of others. Ask before smoking, filming or picture taking. No drugs, no alcohol. No loud talking or music.
– Sit on a towel if you use a public seat or bench.
– Keep the environment clean. Respect wildlife and plants.
Q: Is naturism good for children?
A: Absolutely! Children are the best and happiest naturists in the world! But parents and guardians have to use common sense. No matter if it is a regular or a nude beach, there might be dangerous things like sun, water, sharp objects, insects or sick people around. You must be with your children and watch them all the time. Protect your children! They rely on you!
Q: My husband and I want to attend your swim at Templeton Pool. We have attended other swims in the past but we are not sure about your policies regarding clothing optional evenings! Are we able to go in the same change room and share a locker, share our shampoo and so on or do we need to go in separate change areas? What exactly is your definition of "Clothes optional"?
A: Both change rooms can be used regardless, so you both can go into the same change room and share same locker, etc. NIFTY swims are clothing optional meaning you are free to use your regular swimsuit if you want.
Q: We are first timers and are planning to attend the swim. We know both change rooms are open to both sexes but my wife is asking are there private change booths in the ladies locker room? Since the swim is clothing optional, she may want to remove her bikini bottom out of general view.
A: At NIFTY pool events at Templeton, both change rooms are for any gender, although anyone is welcome to use the private changing areas that you will find in both change rooms, or you can change in one of the lockable washrooms. When we have NIFTY pool evenings at Renfrew, in addition to two unisex washrooms, there are also private family change areas you are welcome to use.
Q: Can I come once just to try?
A: Absolutely! Remember, if you bring the coupon, your first NIFTY swim is only $1 – read details on our swim page.
Q: How to join your club? It says that membership is required to participate (sliding scale starting at $0). I assume it's just some kind of registration that's required. Problem is, I see no link to the registration form or how one might register? How does one register ahead of time if that's required before arriving at the pool?
A: We don't have any online forms or payments for any of NIFTY events. All registrations can be done when you attend an event, and payments for everything must be in cash.