Add to your Google Calendar
7 Mar 2020 - 19:00
Vancouver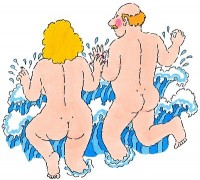 N.I.F.T.Y. INDOOR SWIM NIGHTS
Attention!! Sometimes our swims are cancelled or moved to a different location. Please check our calendar events page and our announcement widget in the right column for the latest information regarding our swims.
Location: Renfrew Pool, 2929 E 22nd Ave, Vancouver
Time: 7:00pm to 9:00pm.
Cost: Regular admission is $12. NIFTY offers half price swim rates to students and low income people. Children (18 years & younger) are admitted free when accompanied by their parents. Annual membership (by donation, $0 and up) required for all adult admissions.
Check with the front desk for location. All N.I.F.T.Y. swims are clothing optional.
.