Add to your Google Calendar
7 Mar 2020 - 19:00
Vancouver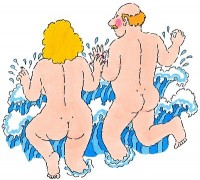 Attend our Special NIFTY Pool-Spa Event March 7, 2020 at Renfrew Pool!
We are happy to announce we are having a special NIFTY Pool-Spa event on March 7, 2020 at Renfrew Pool! It's at the Renfrew Community Centre, 2929 E 22nd Ave, Vancouver.
Note slight time change (half hour earlier than at Templeton). The Renfrew event will go from 7:00 to 9:00 PM.
As at all NIFTY events, this will be family-friendly, nude-optional — and all ages, body sizes and genders are welcome.
Enjoy sauna, hot tub, "cool tub", big pool, water volleyball, and socializing.   People are welcome to join the group for a restaurant outing afterwards, if you wish. Listen for announcements at the pool, usually around the hot tub and in the sauna.
Some other things to note for this one: cost is $12 regular/$6 concession for students and disabled or low income people. Cash at the door and we've kept the cost down, although donations gratefully accepted if you feel inclined, as this place is more expensive to rent than Templeton.
This year, we are not requesting pre-payment, but we need a good turnout to be able to afford to go to this facility, so please plan to attend. It's a beautiful facility so we think you will be happy you attended!
The pool has a glorious big hot tub with subdued lighting and a lovely aquamarine glow. It's surrounded by lots of deck and lounge chairs if you want to relax or chat. It also has an interesting "cold tub" area in the shallow end, with cool jets that can be refreshing for aching or tired backs and feet. We've asked the staff to ensure the sauna is as hot as possible. In any case, please open and close the sauna door as quickly as possible to retain as much heat as we can.
There's also a fun little kids area in the shallow end of the pool, with shaped areas of the pool itself, to swim in and around. And there are gradual entries to the pool in places, in case anyone has accessibility needs.
We will have water volleyball, an open swimming area as well as swim lanes, and a diving board for those who enjoy a more active experience. Be as active or lazy as you like!
The pool is very easy to get to, and close to bus routes. The #25 stops right outside or travel on the #16 Arbutus that you can catch at the 29th Avenue Skytrain. For both bus routes, get off the bus at Boyd Diversion and 22 Ave. There is also lots of underground and street parking.
NOTE: please use the emergency exit doors near the parkade to enter the pool this time. The lobby doors will be locked.
Bring your own towel and shower supplies, as well as a lock for the locker, as there are no pay lockers in the changing areas, although there are a few coin lockers for wallets. Or leave valuables at home.
Children (18 years & younger) are admitted free when accompanied by their parents.
Annual NIFTY membership (by donation, $0 and up) required for all adult admissions.
Afterwards, if you would like to, you are welcome to continue socializing with the group at a local restaurant. Whether you go to the restaurant or not is completely your choice, and does not affect your entrance to the pool.
This pool has a lot of windows so help with tarps starting at 6:30 pm is very appreciated — we will only have a half hour to put the tarps up so please volunteer to help if you can. If you want to volunteer or need more info, please contact niftynude.org — or just show up and let us know you can help!
See you there!
Newcomers: Your first NIFTY swim is only $1 with our coupon.
See www.niftynude.org/swims for more info.