Category:
Gallery
Permanent link to this article: http://niftynude.org/beach-art-gallery/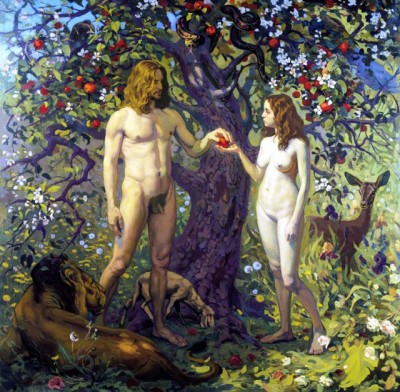 Pavel Popov was born in 1966 in the city of Perm. In 1994 he entered the Russian Academy of Painting, Sculpture and Architecture, studied at historical painting workshop led by Professor Glazunov. Pavel is a Member of the Moscow Union of Artists.
Permanent link to this article: http://niftynude.org/pavel-popov-gallery/
Permanent link to this article: http://niftynude.org/spencer-tunick-gallery/
Permanent link to this article: http://niftynude.org/nudist-jokes-gallery/
Permanent link to this article: http://niftynude.org/william-adolphe-bouguereau-gallery/
Permanent link to this article: http://niftynude.org/winter-nude-sport/
Permanent link to this article: http://niftynude.org/vladimir-fedotko-gallery/
Permanent link to this article: http://niftynude.org/anastasia-chernyavsky/
Permanent link to this article: http://niftynude.org/family-naturism/
Permanent link to this article: http://niftynude.org/winter-nude-sport-and-games-gallery/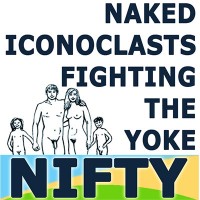 NIFTY membership shall be by donation, with no minimum. Lack of financial means shall never he a barrier to NIFTY membership.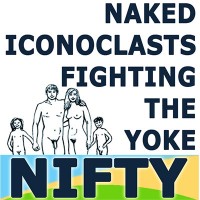 Attention Newcomers:
Your first NIFTY swim is only $1. Please click on the image below, print, photograph or save the discount coupon on your smartphone or camera and present it at the next NIFTY swim. We accept the coupons on paper, digital cameras and smartphones.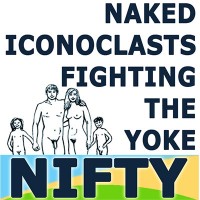 Founded in 1992, NIFTY (Naked Iconoclasts Fighting The Yoke) is a group of citizens who believe that people should be allowed to decide for themselves whether to wear clothing or not in public spaces. Essentially, the group formed in opposition to section 174 of the Canadian Criminal Code, which declares public nudity a criminal offense. However, we advocate for clothing-optional rights for everyone, not just Canadians. Although many NIFTY members are naturists or nudists, NIFTY is not a naturist/nudist group; we are simply a group of citizens who believe in the right of every person to decide what, if any, clothing to wear in public spaces.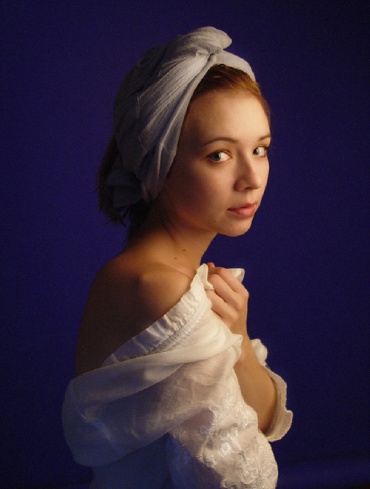 Anastasia Chernyavsky is a Russian-born photographer who currently lives with her husband and their two children in Foster City (San Francisco Bay Area), United States. Her first photographic equipment was a Zenit E camera her father have her as a gift when she was 15 years old.
After her first child being born, Anastasia started taking photographs of here loved ones. During that year she discovered a great talent to capture a beauty and became a professional fine art photographer specializing in creative portraits of pregnant mothers, babies, couples, and family. Anastasia is a freelance photographer for agencies, magazines or private clients, having worked as a professional photographer for civil events. She became famous in 2013 when her series of self-portraits, featuring her and her children naked, went viral in social media and the blogosphere, and subsequently censored by Facebook, with some commentators from the mainstream press comparing her compositions to neoclassical paintings, such as the "Madonna del Parto" of Piero della Francesca.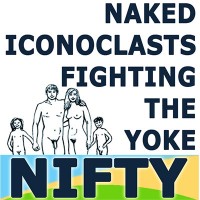 All public NIFTY events shall be open to anybody without discrimination. There shall be no quotas of any kind, and people can be asked to leave or barred based solely on their own behaviour. Such behaviour must have predictable negative consequences.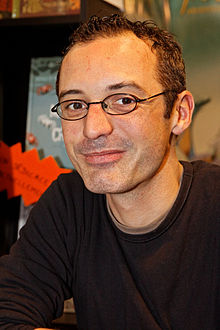 Arthur de Pins (born in 1977 in Britain) is a well known French artist, illustrator, animator, and character designer. He has graduated from the Ecole Nationale Supérieure des Arts Décoratifs (2000). His naturist characters are amazing. Most of them are funny and stylish, leaving no doubt that the creator has a great sense of humor.
http://www.arthurdepins.com/
http://www.myspace.com/arthurdepins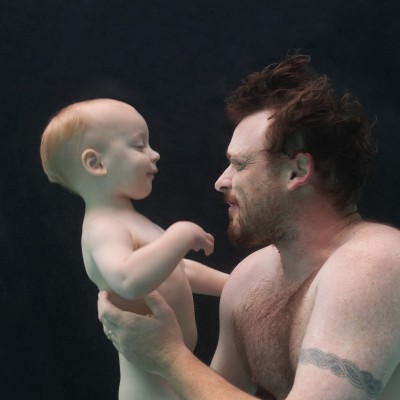 Mark Mathews Alberich is an American photographer living in California, United States. His photographs, usually portraits and nudes, emit an aura of originality and mysticism, the results are spectacular. Photo aquatic effects of layers of fabric and cascades of smoke, a visual delight.
Underwater Gallery 1
Underwater Moms
Breastfeeding Gallery
Underwater Gallery 2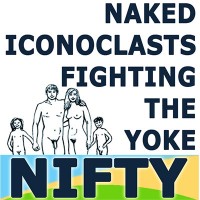 Membership in NIFTY shall be open to anyone who supports the elimination of legislation forcing the wearing of clothing in public spaces.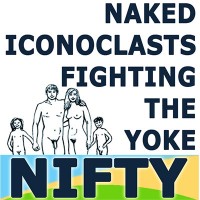 NIFTY meetings shall be non-smoking and clothing-optional if possible.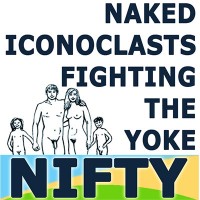 The name NIFTY arose because we wanted an acronym for the group's name, and came up with NIFTY as a "temporary" moniker until we could decide on a "real" name; however, people seemed to like the name and it was decided to keep it as the group's permanent title.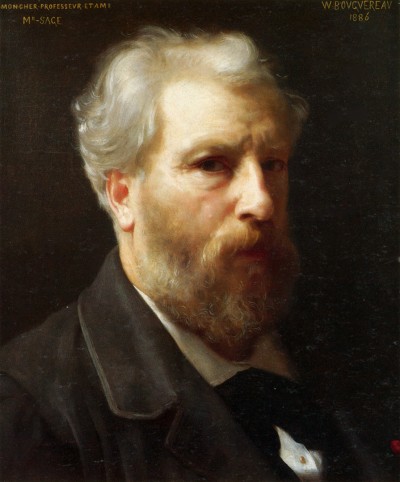 William-AdolpheBouguereau (November 30, 1825 – August 19, 1905) was a French academic painter and traditionalist. In his realistic genre paintings he used mythological themes, making modern interpretations of classical subjects, with an emphasis on the female human body. During his life he enjoyed significant popularity, was given numerous official honors, and received top prices for his work. Throughout the course of his life, Bouguereau executed 822 known finished paintings, although the whereabouts of many are still unknown.
Based on Wikipedia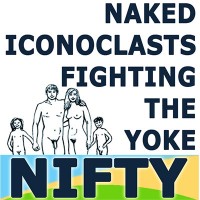 For a NIFTY meeting to be valid, reasonable attempts to notify the membership of that meeting, well in advance of said meeting, must he made. At least three members shall constitute a quorum.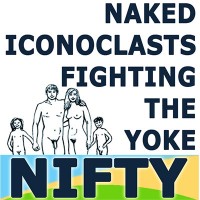 NIFTY's first official meeting was held in 1993, and we began renting Vancouver's Templeton Park Pool for monthly clothing-optional swims in 1998. Since then, our membership has grown significantly, and several thousand people have been NIFTY members at some point over the years, with about 500 up-to-date members at any given time.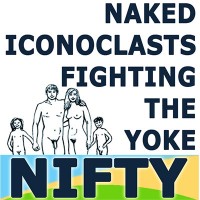 All decisions at NIFTY meetings shall be made by consensus if possible. In the event that consensus cannot he achieved after reasonable attempts, a vote shall take place, with majority rule carrying.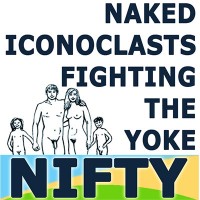 NIFTY is proud of its twenty-plus year history of advocacy, and we intend to continue our fight until all citizens have the freedom to wear clothes if they choose, and not wear them if they choose, in public spaces around the world.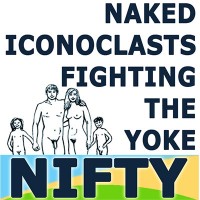 NIFTY shall not discriminate against any person on the basis of sex, race, colour, creed, age, national origin, sexual orientation, or any other basis unrelated to behaviour.
Previous
Next