Category Archive:
Nudist Quotes
Permanent link to this article: http://niftynude.org/say-no-to-sleepwear/
Permanent link to this article: http://niftynude.org/go-naked-2/
Permanent link to this article: http://niftynude.org/every-body-is-beautiful-2/
Permanent link to this article: http://niftynude.org/life-is-short-be-a-nudist/
Permanent link to this article: http://niftynude.org/a-nudist-never-has-to-hold-out-his-hand-to-see-if-it-is-raining-3/
Permanent link to this article: http://niftynude.org/464/
Permanent link to this article: http://niftynude.org/go-to-a-nude-beach/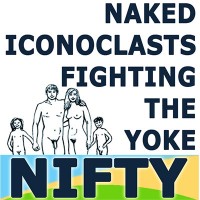 All decisions at NIFTY meetings shall be made by consensus if possible. In the event that consensus cannot he achieved after reasonable attempts, a vote shall take place, with majority rule carrying.
View full post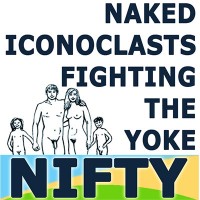 Founded in 1992, NIFTY (Naked Iconoclasts Fighting The Yoke) is a group of citizens who believe that people should be allowed to decide for themselves whether to wear clothing or not in public spaces. Essentially, the group formed in opposition to section 174 of the Canadian Criminal Code, which declares public nudity a criminal offense. …
View full post

Vladimir Fedotko is a photographer from St. Petersburg, Russia. He is known for his talent to magically combine traditional drawing, photography and computer processing. Fedotko creates unique photos and fills them with fairy-tale characters. His images are bright and elegant. The artist shows a variety of stories that combine surrealism and fantasy. Digital art appeared …
View full post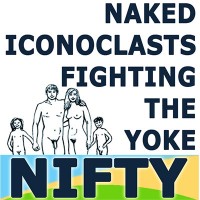 Membership in NIFTY shall be open to anyone who supports the elimination of legislation forcing the wearing of clothing in public spaces.
View full post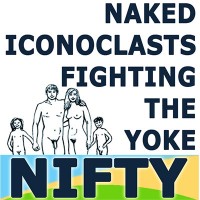 While many NIFTY members are nudists and naturists, we are neither a nudist nor a naturist group. Membership is open to any person who supports our vision of Canada and a world free of legislated clothing requirements. (NIFTY Constutution, Paragraph 3)
View full post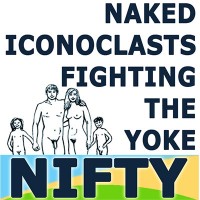 NIFTY has held many events over the years: topfree and clothing-optional parades and marches, topfree picnics and book readings, clothing-optional dances and movie nights, and more. We also usually host a clothing-optional picnic following the Vancouver portion of the annual World Naked Bike Ride. While these events are celebratory in nature, they also serve to …
View full post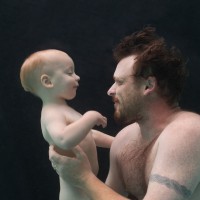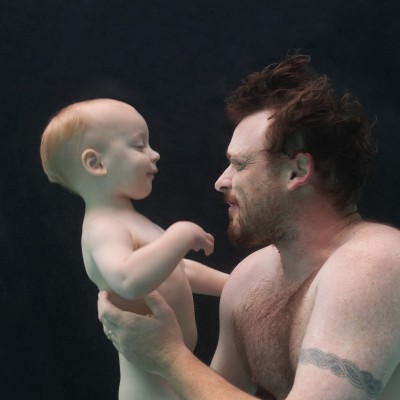 Mark Mathews Alberich is an American photographer living in California, United States. His photographs, usually portraits and nudes, emit an aura of originality and mysticism, the results are spectacular. Photo aquatic effects of layers of fabric and cascades of smoke, a visual delight. Underwater …
View full post
Established by BC Supreme Court, 2000 June 8 (Citation: Maple Ridge v. Meyer, 2000 BCSC 902) "We had a legal opinion and its very clear she is correct. It is not a crime." – Terry La Liberte, Vancouver Police Board "Deputy [Vancouver Police] Chief Doug LePard said he would notify the training session of the …
View full post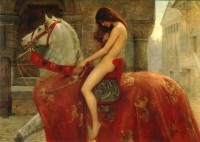 Lady Godiva was the wife of Leofric, Earl of Mercia. In 1043 Leofric founded and endowed a Benedictine monastery at Coventry. People of Coventry were suffering under her husband's oppressive taxation. Lady Godiva asked her husband to remit the tolls. Leofric said he would grant her request if she would strip naked and ride through …
View full post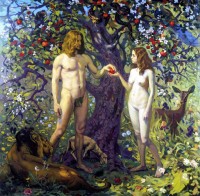 Pavel Popov was born in 1966 in the city of Perm. In 1994 he entered the Russian Academy of Painting, Sculpture and Architecture, studied at historical painting workshop led by Professor Glazunov. Pavel is a Member of the Moscow Union of Artists.
View full post
Tips for organising clothes-optional swims By Greg DePaco, NIFTY secretary If the NIFTY swims are too infrequent for you – or if you live too far away from Templeton Pool to participate as often as you'd like – you may have thought about starting a clothing-optional swim of your own at a local pool. We …
View full post
Attention Newcomers: Your first NIFTY swim is only $1. Please click on the image below, print, photograph or save the discount coupon on your smartphone or camera and present it at the next NIFTY swim. We accept the coupons on paper, digital cameras and smartphones.
View full post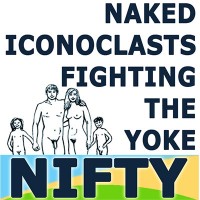 NIFTY is first and foremost an activist political entity. Although organizing and engaging in social and recreational activities is necessarily part of our function, our primary focus must always remain on political organization towards full clothing-optional rights in all public spaces in Canada. (NIFTY Constutution, Paragraph 2)
View full post